Estuary Data Mapper FAQ
---
A: "An estuary is a partially enclosed body of water along the coast where freshwater from rivers and streams meet and mix with salt water from the ocean. Estuaries and the lands surrounding them are places of transition from land to sea, and although influenced by the tides, they are protected from the full force of ocean waves, winds, and storms by such landforms as barrier islands or peninsulas".
The National Estuary Program has more information about the importance of estuaries.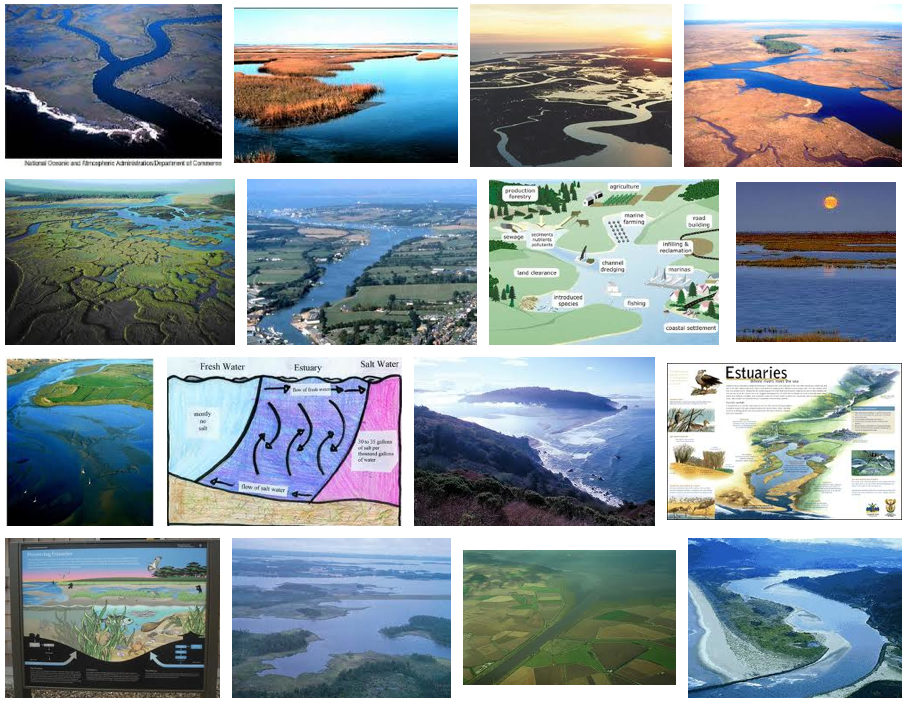 Q: Which estuaries are available for study in the Estuary Data Mapper?
A: Any of the approximately 2,000 named estuaries along the five US coastal regions: Atlantic (Maine to Florida), Gulf of Mexico (Texas to Florida), Pacific (Washington, Oregon, California), Alaska and Hawaii.
EDM menus allow you to select a coastal state then select one of that state's estuaries and it will zoom to view it.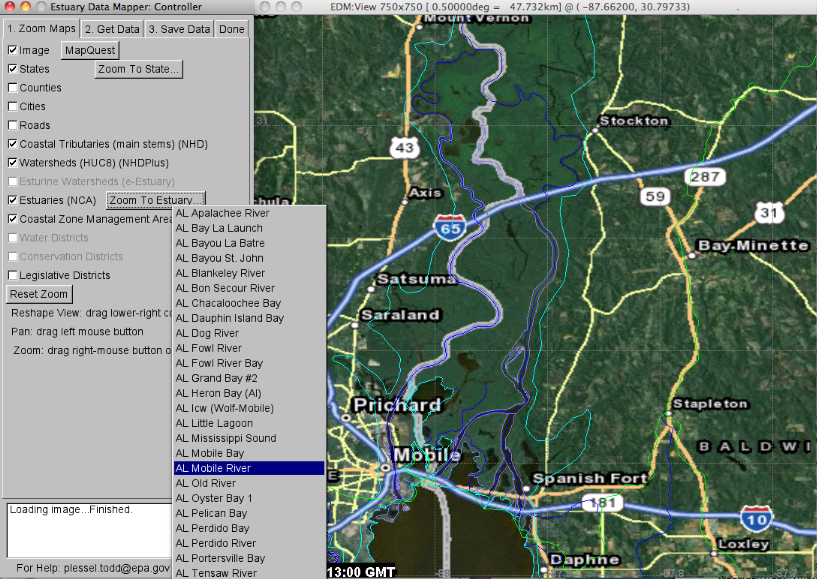 Q: What is the Estuary Data Mapper (EDM)?
A. The Estuary Data Mapper (EDM) is a free, interactive graphical application under development by the US EPA that allows scientific researchers to quickly and easily:
View and select estuary-scale geographical regions of interest - i.e., pan and zoom a map of the US coastal states displaying watersheds, streams and estuaries, land coverage, satellite images, etc.


Retrieve and view specified water-quality data, gauge measurements of tides and freshwater discharges, gridded modeled nitrogen deposition, land use, topography/bathymetry, etc., subsetted by date-time and lon-lat rectangle. (Data streamed via web servers at EPA, NOAA, USGS, USFWS, etc. Examples of water-quality data points include dissolved oxygen, turbidity and chlorophyll.)


Save the resulting data subsets (as Shapefiles, grid files, etc.) for further analysis and import into the EPA estuarine data model, ArcGIS or open source GIS, GoogleEarth, etc.
A: EDM is used by:
Environmental science researchers (aquatic biologists, chemists, physicists, mathematicians, statisticians, etc.) with expertise and interest in watersheds and estuaries.
Water ecosystem managers and decision-makers (e.g., of watersheds, water districts, wildlife preserves, etc.).
NGO and citizen groups concerned with water ecosystem issues.
A: The Remote Sensing Information Gateway (RSIG) is a similar web-based application (co-developed by the same programmer) that focuses on meso-scale air quality data.
RSIG provides a webserver called rsigserver that is used by Estuary Data Mapper to get data such as land use, NADP nitrogen and CMAQ NOx deposition data.
Q: What data are available in EDM?
A: The list of available maps and data is expanding during development and is shown in the EDM GUI. (Grayed-out buttons indicate a not-yet-implemented feature.)

Image and map lines: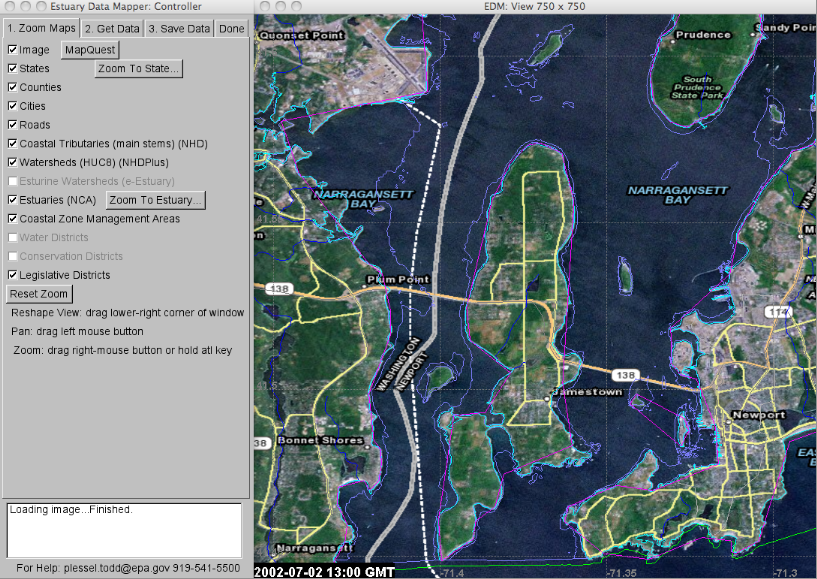 Data: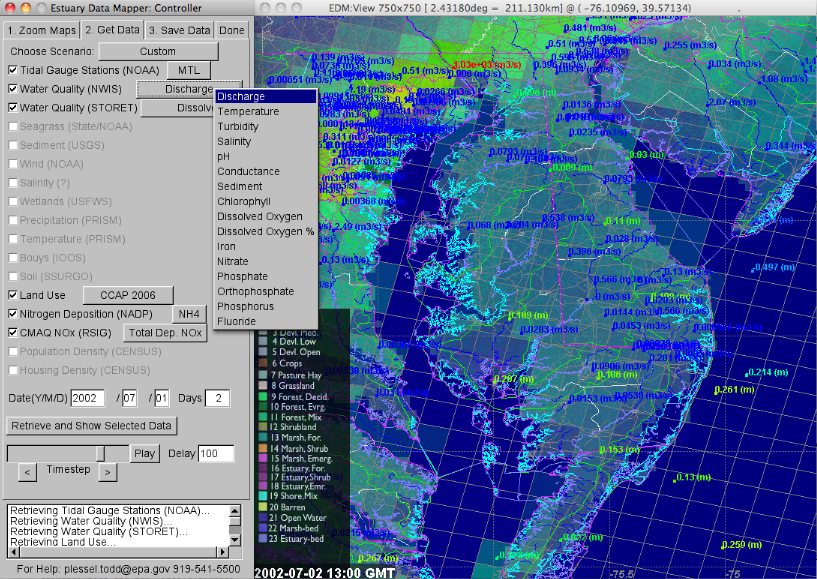 Maps and Data Sources Accessed by Estuary Data Mapper:
If you know of other relevant data you'd like EDM to access please let us know.
Q: Where/how does EDM get its input data?
A: For small, static data, EDM reads from 'built-in' files (e.g., county borders) which are included in the downloaded EDM folder.
For large and/or time-varying data, EDM reads such data streamed on-demand from specific remote webserver applications ("web-services") hosted at EPA, NOAA, USGS, etc.

For example, when the Retrieve Button is pushed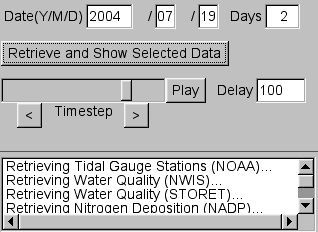 EDM requests data from each source webservice using commands such as:

http://nwis.waterdata.usgs.gov/nwis/dv?format=rdb&list_of_search_criteria=lat_long_bounding_box&coordinate_format=decimal_degrees&range_selection=date_range&date_format=YYYY-MM-DD&nw_longitude_va=-77.6572&nw_latitude_va=40.1987&se_longitude_va=-73.8377&se_latitude_va=36.3792&begin_date=2004-07-19&end_date=2004-07-20&index_pmcode_00300=1

which stream back data which is then displayed by EDM.

If you know of other relevant data you'd like EDM to access please let us know.
A: No. EDM only reads its own 'built-in' files (e.g., county borders) and data streamed from specific remote webserver applications.
EDM has no provision for reading arbitrary user-specified local files.
But if you have relevant data files you'd like to share with others through EDM, please let us know.
Q: What output file formats does EDM support?
A:PNG image, MPG movie, KML (GoogleEarth), ESRI Shapefile, ESRI ASCII Grid.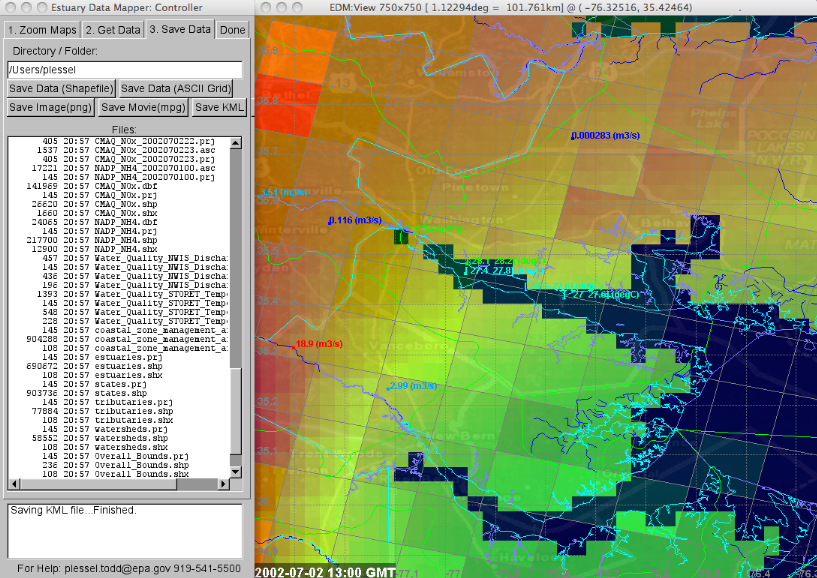 A: The software is being developed by Todd Plessel at the EPA Environmental Modeling and Visualization Laboratory (EMVL) in support of the e-Estuary Project. The principal investigator of the project is Naomi E. Detenbeck, Ph.D. of the US EPA Atlantic Ecology Division.

A: Yes. The software is being developed under US Federal Government Contract. It is freely available to the public and executables for popular platforms (and C/C++ source code) can be downloaded here.